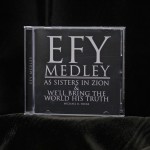 This choral medley of "As Sisters In Zion" and  "We'll Bring the World His Truth" has touched hearts across the world.
Commissioned by CES Youth and Family Programs, this medley was first used by the EFY program during the summer of 1999.
Listen to samples of EFY Medley CD Single with bonus tracks:
Audio clip: Adobe Flash Player (version 9 or above) is required to play this audio clip. Download the latest version here. You also need to have JavaScript enabled in your browser.
Tracks
EFY Medley: As Sisters In Zion & We'll Bring the World His Truth (watch video)
(youth choir)
I Need Thee Every Hour (bonus track)
Oh, How Lovely Was The Morning (bonus track) (watch video)
(John McVey)
He Knows (bonus track) (watch video)
(Timothy Goodman)
Born Still In The Arms of God (bonus track)
(Jen Marco)
Moki Canyon Lullaby (bonus track) (watch video)
Last Jerusalem Sunset (bonus track) (watch video)
Purchasing Options
---
Order CD [$4.95]
---
Download CD [MP3s] [$4.95]
---
---
Order EFY Medley sheet music [$1.99]
---
---
Perform EFY Medley with choir                                  [click here]
---
---
Download "He Knows" sheet music [PDF] [$2.49]
---
Download EFY Medley in Spanish [mp3] [$1]
---
If you are interested in orchestral parts for the EFY Medley, click here for more details.
If you are interested in the accompaniment track for the EFY Medley, it is available as part of the I Know He Lives CD.
If you are wondering why As Sisters In Zion & We'll Bring the World His Truth was not part of EFY in 2012, here is the whole story.
Notes from Mike
One January day in 1999, I received a phone call from CES Youth and Family Programs asking me to arrange the song "As Sisters in Zion" for the young women of EFY to sing. I didn't know much about the song (because I really hadn't sung it much in my lifetime), so I sat down with my hymn book and read through the lyrics and melody.
I liked the message of "As Sisters In Zion", but I felt like there needed to be a little more to this arrangement in order to accomplish the goal EFY had for this song. After thinking about it for a while, the thought came to use the young women's theme. It was a "light turned on inside of my head" moment.
After writing this arrangement and recording a demo, I recruited two former EFY girl counselors to sing it for the EFY Coordinators and some of the Administrators for the first time. After performing it for them, I spent the next few minutes teaching the girl coordinators the song.
In the mean time, the guy coordinators huddled over in the corner. They then asked if I would arrange "We'll Bring the World His Truth" for the young men of EFY to learn. I immediately started thinking about the two songs together and it occurred to me that the two chord progressions were very similar and that the two melodies could work well together. I couldn't wait to get home to write what ended up being the second half of the EFY Medley.
The rest is history. As a Building Counselor for EFY that summer, I had the blessing of hearing thousands of youth learn and sing this medley of As Sisters in Zion & We'll Bring the World His Truth. The thing that gives this song its wings is the youth who sing it with all of their hearts.
Since EFY 1999, "As Sisters In Zion & We'll Bring the World His Truth" has been sung all over the world, from my Salt Lake ward's youth choir to a combined Stake Youth Conference in Lithuania, from a small release-time seminary class in California to the 2000 BYU Women's Conference. To you who have sung this medley, I thank you and hope you will always remember the message and symbolism of this song.
Notes from You
Beth from Maryland
"This song is SO beautiful! I've been trying to find it ever since EFY! When we sang that on Thursday night I was so overwhelmed with the spirit…I realized how lucky I am to be a member of the true church surrounded by others who know the truth and love the gospel as much as I do!! It was amazing!!"
Michelle from Virginia
"When you get a group of youth to sing this song the spirit is so strong. When we sang it at EFY my friends and I couldn't sing cuz we were so overwhelmed by the spirit."
Keri from Colorado
"This is the most incredible song medley ever! I wish everyone could have been at EFY as we, the youth, stood unified and filled the room with this beautiful song. You could fill the power and strength of the youth of the church as we poured out our hearts with song. It gave me a glimpse of what Heaven may be like as we all sing praises to our Heavenly Father!"
A youth from Texas
"I was one of the girls that sang this song and I really couldn't sing it through all of the way without crying! It is beautiful and I hope to sing it with some youth in my ward!"
Catherine from Canada
This arrangement is absolutely beautiful. After our first rehearsal for the first few seconds we sat in stunned silence as we looked at one another – we couldn't believe our ears!
Jesse from California
"This beautiful masterpiece composed by Mike Hicks is just astounding. The spirit was so strong when I was EFY and sang this together with the girls. I truly love this medley and I listen to it every chance I can. Thank you Sister Janice Kapp Perry for allowing your song to be used for this medley. The spirit testified to me that we are literally children of God and this medley is sung in parts is so amazing!"